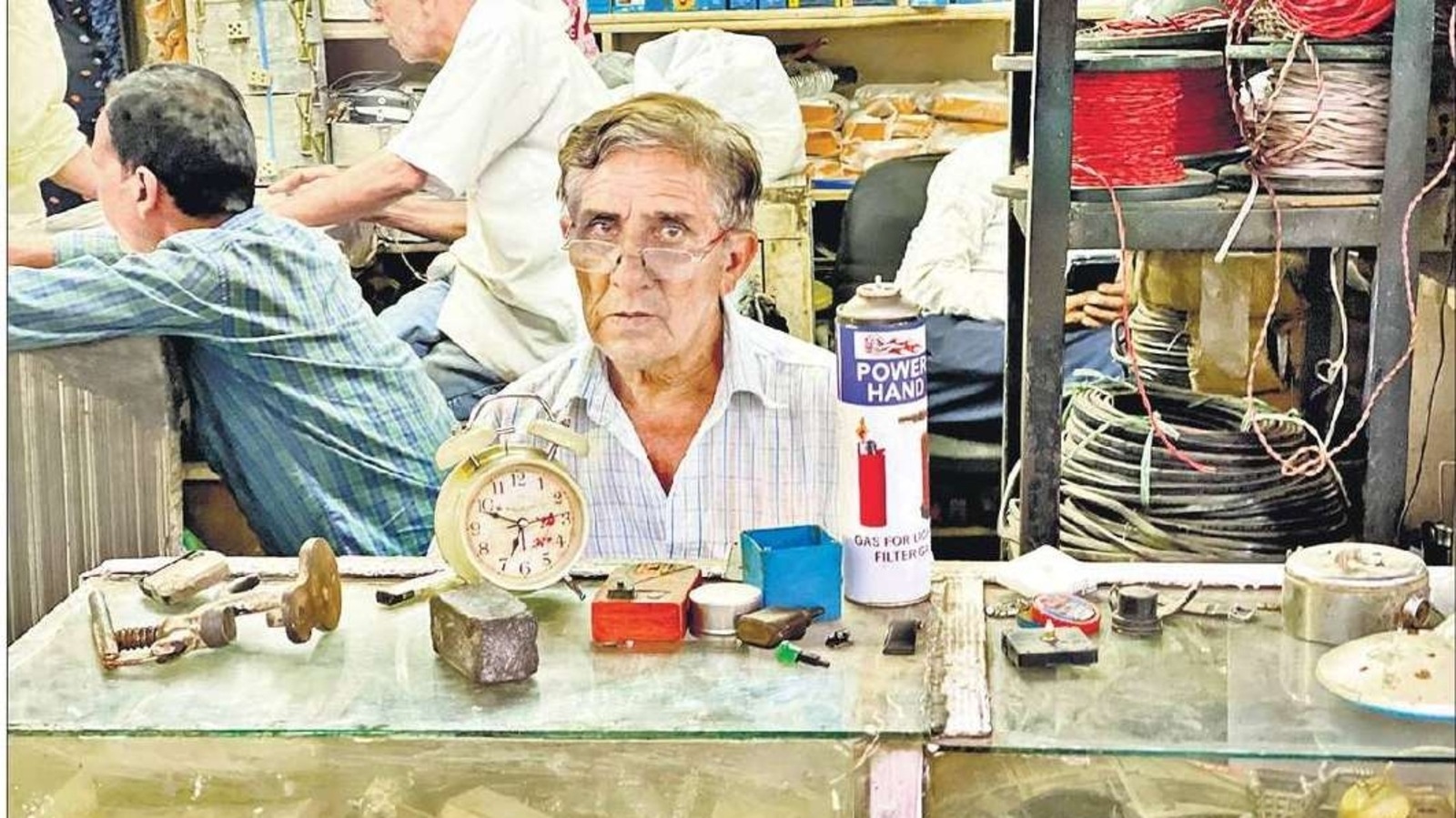 Delhiwale: Time Keeps Passing | Latest Delhi News
Time goes through the worst times. He advances, sometimes like a rabbit, sometimes like a turtle. Over time, time changes lives.
And yet, things remain the same.
This is the conclusion of Durga Dev. In his sixties, he maintains a close relationship with the technical aspects of time. The watchmaker's establishment located on this street in Gurugram's Sadar Bazaar has been running like a faithful and reliable clock for over 40 years. It consists of a counter and a chair. The display case at the counter is filled with clocks and watches.
Nothing has changed for Durga Dev all these years, he says. Time has stood still for him, he whispers, as he performs a delicate operation in the bowels of a wristwatch with his assortment of delicate tools. Even the pandemic has made no difference. "The world shook, not me." Her voice betrays no pride in her resilience. He does, however, admit to getting fewer customers these days – "dhanda manda hain". Looking around, he said, "I'm sitting still, time keeps passing."
It is evening and the electric lights have shone on this part of the market, making it more interesting than it is. For a passerby, the workshop does not trigger the fear caused by similar businesses in Old Delhi. A repair shop in the walled city's Galli Chooriwallan has its walls covered from top to bottom with ancient pendulum wall clocks. All appear to have originally hung at King's Cross station in London when the Queen was still a princess.
Durga Dev opens a box. It is filled with pieces of old watches. He uses these parts to repair watches that customers bring in for repair.
As he prepares to relax for the day, the mild-mannered man pulls out an old newspaper clipping from inside the glass case. He has his picture. The paper has yellowed, but the cut is well preserved and is laminated for longevity. Durga Dev solemnly returns the precious object to its place. He will now return home to Baldev Nagar. "I'll be back tomorrow morning at 9am."
Close story
Has the director been appointed in accordance with the rules of the CGU? Literary teacher

Nandita Narain, who teaches mathematics at St Stephen's College and is also a member of the institution's board of trustees, raised questions about the procedures that have been adopted for the appointment and reappointment of John Varghese as director of the middle School. HT saw an email that Narain wrote to the college's board of trustees, asking for clarification on the body's procedures for appointing Varghese.

Delhi government reviews booster doses administered in city wards

Delhi's health department on Tuesday reviewed the administration of booster doses of the Covid-19 vaccine in districts across the city, with officials pointing out that northern and eastern districts had the lowest coverage while the western and New Delhi districts were giving the maximum number of vaccines. According to Delhi government data, 81,055 precautionary doses were given in North Delhi and 123,589 people received booster shots in East Delhi.

"Over 5,000 students have received free CUET prep lessons"

More than 5,000 public school students in Delhi have received free preparatory lessons for the Common University Entrance Test (CUET), Deputy Chief Minister Manish Sisodia said on Tuesday. Individual mock tests have been designed for each stream – arts, science and commerce, he said. As part of the support for entrance preparation, the Delhi government has set up special centers for the preparation of business and science subjects. For the humanities, preparation was provided in schools.

Delhi asks top court to form 5-member panel to hear services dispute

The Delhi government on Tuesday asked Chief Justice of India (CJI) N.V. Ramana to appoint a bench of five judges to decide whether the center or the elected Delhi government has the power to transfer and appoint bureaucrats in the capital city. Lead lawyer Abhishek Manu Singhvi, representing the Aam Aadmi Party government, made the request to the CJI, saying the matter needed an urgent hearing. Judge Ramana, however, did not specify a hearing date.

Sharjeel resisted search by convicts and jailers in Tihar last month: officials

A jailer and several convicts from the Tihar prison complex entered inmate Sharjeel Imam's cell to conduct a search June 30 during which Imam and others resisted inspection but were not assaulted, said officials familiar with an internal investigation. Guards and convicts assaulted Imam on June 30, his lawyer told the court on July 4.