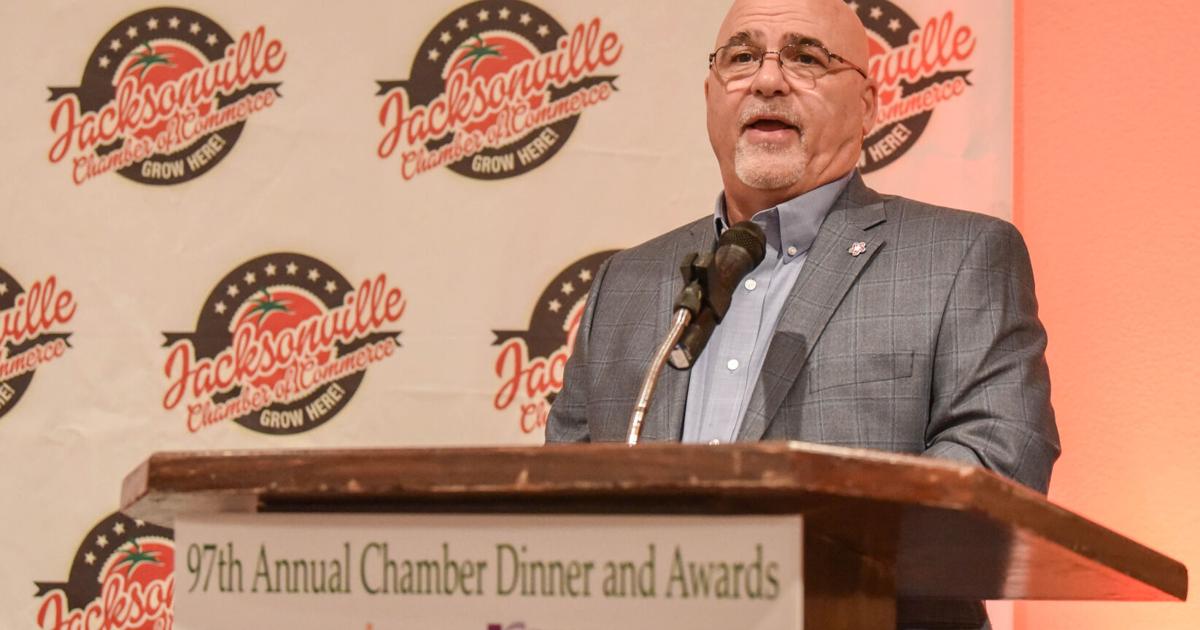 Jacksonville Chamber of Commerce Hosts Annual Banquet | Local News
The Jacksonville Chamber of Commerce marked a changing of the guard Thursday and presented a number of awards at its 97th annual awards banquet.
Nearly 200 attendees filled The Legacy venue to welcome new board members and celebrate the honorees with former Jacksonville Mayor Dick Stone as emcee.
Chamber of Commerce President Peggy Renfro said the event is a way to review past achievements and identify future plans.
"It's a great way for the outgoing president to highlight his accomplishments for the year, and for the incoming president to share the goals set for the year and to honor the volunteers," she said.
Renfro said the event is also a way to recognize people who have gone above and beyond in 2021.
New board chairman Duane Weatherford of Republic Services said he was honored to take on the role.
"I have a strong legacy of leaders who have worked together to make Jacksonville a great place to live, work and play," he said. "I'm very excited and looking forward to a great year. Jacksonville is growing and I'm proud to be part of the Chamber to help our new businesses engage with our community."
Weatherford said involvement in the Chamber is more important than ever, and the Chamber is "committed to ensuring our community thrives."
The winners were Rookie of the Year Karen Nolley, Unsung Hero Andy Calcote, Outstanding Businesswoman Tabatha Ainsworth, Outstanding Businessperson Brandon Bannister, Outstanding Citizen of the Year Janis Adams, Small Business of the Year (less than five employees) Compacity, Small Business of the Year (less than 25 employees) Texas National Bank, Medium Business of the Year Republic Services and Large Business of the Year Austin Bank.
Outgoing President Shannon Hitt presented Renfro with a surprise — the President's Award in honor of 40 years of service to the Chamber of Commerce.
The Chamber is in a fundraising campaign with plans to return downtown next to the Jacksonville Economic Development Corp office. Renfro said House officials hope to make the move in November or December.
Contact the Jacksonville Chamber of Commerce at (903) 586-2217 or jacksonvilletexas.com.