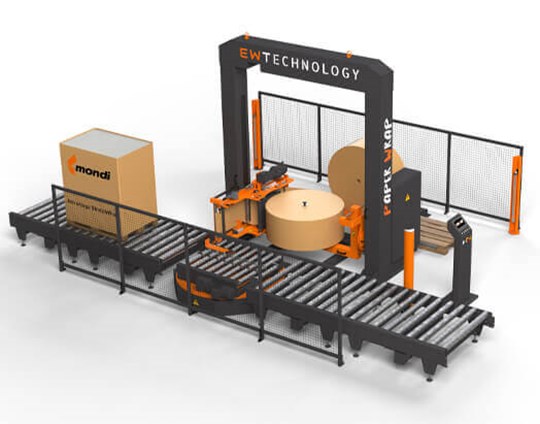 Mondi Partners with EW Technology to Launch New Paper Pallet Wrapping Machine
Monday collaborated with Austrian mechanical engineering company EW Technology to launch a new paper pallet wrapping machine that is more efficient and durable on small and medium production lines.
The two companies worked together to design the innovative machine, which fills a gap identified by Mondi in the pallet wrapping market. Offering two settings, the machine can be fully automated to wrap up to 60 pallets per hour or semi-automated to wrap 10-15 pallets per hour.
The machine accepts a full roll of Mondi's Advantage StretchWrap paper, allowing customers to replace the multi-ply plastic that is currently the industry standard for pallet wrapping. Advantage StretchWrap is 100% virgin paper, created with renewable materials and fully recyclable in existing waste paper streams across Europe. It does not contain any plastic or coating, but nevertheless ensures excellent resistance and excellent absorption of tensions.
A full spool of Advantage StretchWrap can be applied to the new machine without the need to rewind it. The larger dimensions of the Advantage StretchWrap spool mean that a replacement spool is only needed every 400-600 pallets compared to 40-80 pallets for plastic wrap, providing a more efficient solution.
Mondi is a world leader in packaging and paper. In 2021, Mondi achieved a turnover of 7.7 billion euros and an underlying EBITDA of 1.5 billion euros.