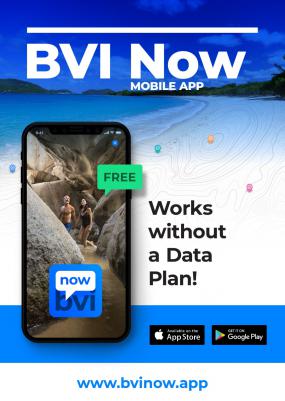 New technology improves the BVI cruising experience!
The BVI Ports Authority (BVIPA), in collaboration with BVI Now, today announced a major app update to meet the needs of cruise ship passengers and improve their experience ashore.
BVI Now is a dedicated BVI application, available for free download from the Apple App Store and the Google Play Store.
Cruise ship passengers who have downloaded the BVI Now app see a special version, with a different user experience. First of all, they are greeted when they are detected entering the territory. They are featured along with several feature articles, including "A Walking Guide to Road Town and CBR Tortola Pier Park" as well as "A Walking Guide to Historic Main Street". These hiking guides highlight Road Town's attractions, local businesses, and places of interest. These features contain local maps of the areas that work even if the passenger does not have a data plan. For passengers who wish to venture beyond Road Town on their own, there is also an 'Insider's Guide to Tortola', which highlights attractions, beaches and places of interest across the island. . Other features have been included to educate passengers about the rich history and culture of BVI.
When our customers are near a place of interest in BVI, they are automatically notified with useful and relevant information about that place, including over 30 places with interesting stories about the pirate lore.
Visitors demand that information be available at their fingertips, while they are on the move. BVI Now brings everything about BVI together in one app, with a variety of "insider guides" that have been written by people who live in BVI. The app works no matter where the user is, even if they are not near WiFi, do not have a data plan, or have lost their cell signal. It eliminates the need for paper maps and prevents the visitor from getting lost.
When the app detects that our guests have left the territory, BVI Now automatically follows up, collecting their new comments about their visit.
The BVI Now app is completely anonymous and protects the privacy of users. BVI Now does not ask for the user's name, address, phone number or email address. No personally identifiable data is collected. The app was launched as a public-private partnership at no cost to BVI taxpayers.
BVIPA Managing Director Oleanvine Maynard said: "The BVI Now app is truly revolutionary and uniquely differentiates BVI from other destinations in the Caribbean and around the world. The world is mobile and BVI Now helps our cruise ship passengers make the most of their time ashore. We hope our guests will use the BVI Now app as a personal guide to explore and learn about the history and culture that makes BVI so special. Through this app, which uses the latest technology, our customers can browse activities, attractions and access a range of local businesses that offer the best of BVI. We believe that BVI Now will improve the experience for our customers, whether they are new to BVIs or discovering new favorites.
ABOUT THE BRITISH VIRGIN ISLANDS PORTS AUTHORITY
The BVI Ports Authority is the managing authority for all official seaports in the British Virgin Islands, including the 60ft wide and 1312ft long cruise quay which can accommodate ships of up to 180 tonnage 000 GRT. BVIPA is responsible for the safe reception and arrival of sea passengers, as well as the reception, handling and security of cargo and maritime trade.
For more information, please visit www.bviports.org
ABOUT THE BVI NOW APP
BVI Now is THE definitive mobile guide for visitors to the British Virgin Islands, with everything they need to know about BVI to make the most of their vacation. The app lists verified locations and contact details for nearly 2,000 local businesses and attractions. It also has feature articles that highlight the best things to do and see. The maps work offline, even if the user does not have a data connection.
BVI Now can be downloaded for free at www.bvinow.app/download