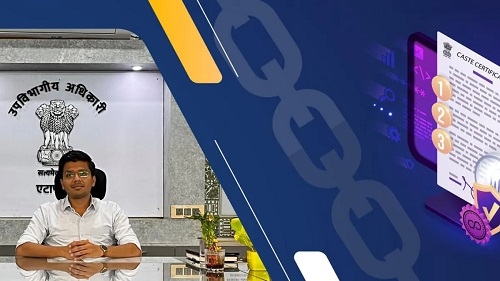 Now blockchain technology for caste certificates in Gadchiroli district
Gadchiroli correspondent
Blockchain technology will now be used to certify caste certificates in Gadchiroli district with the joint efforts of Maharashtra State Innovation Society and Gadchiroli district administration under the Ministry of Skills, Employment, Education Entrepreneurship and Innovation. This will help prevent duplication of caste certificates and fake cases. For this, Maharashtra Startup Week winner LegitDoc was nominated.
The first phase of this initiative is implemented in
Etapalli district of the Gadchiroli district and will benefit the
citizens of Etapalli and Bhamragad, which have a large tribal population
population.
Blockchain is essentially a system of recording information in a way that makes it difficult, if not impossible, to modify, hack, or cheat the system.
Currently digitally signed
caste certificates are
issued to citizens via the MahaOnline portal.
However, majority of people conveniently keep caste certificates in the form of paper printouts, which makes it impossible to certify digital signatures on the printed papers. Even with the issuance of digitally signed certificates, duplicates and falsified cases of caste certificates are detected. Blockchain systems are now being used to prevent this.
As part of this initiative, certificates will be authenticated through a blockchain system using Polygon POS technology. Important details about each caste certificate will be displayed as cryptographic QR codes by the Polygon POS blockchain system. This QR code will allow the ministry or any other office
to verify the authenticity of this
certificate.
Under the leadership of Maharashtra State Innovation Society Managing Director, Dipendra Singh Kushwaha, Gadchiroli District Collector, Sanjay Meena, Deputy District Collector, Shubham Gupta, work is underway to verify the information of approximately 65,000 caste certificates under the jurisdiction of Etapalli sub-division office. In the next month, all caste certificate data will be populated in the blockchain system.
Blockchain-enabled caste certificates with QR codes can be obtained by citizens through common service centers in the district. In this regard, Kushwaha said that the success stories of some of the biggest startups in India have their roots in Maharashtra which prove to be a global success. Winners of Maharashtra Startup Week receive orders of Rs. 15,000,000. This initiative plays an important role in bringing innovation to the administration, he said.
Deputy Collector Gupta said the innovative mechanism would limit the misuse of caste certificates to benefit from any government program for Scheduled Castes and Scheduled Tribes. New certificates will be issued by the district administration via blockchain in the near future, he said. Neil Martis, co-founder of Legit Doc Startup, said the government of Maharashtra is using cutting edge technology like web/blockchain in e-governance initiatives to innovate in governance. Such initiatives will lead to radical positive changes in the years to come.