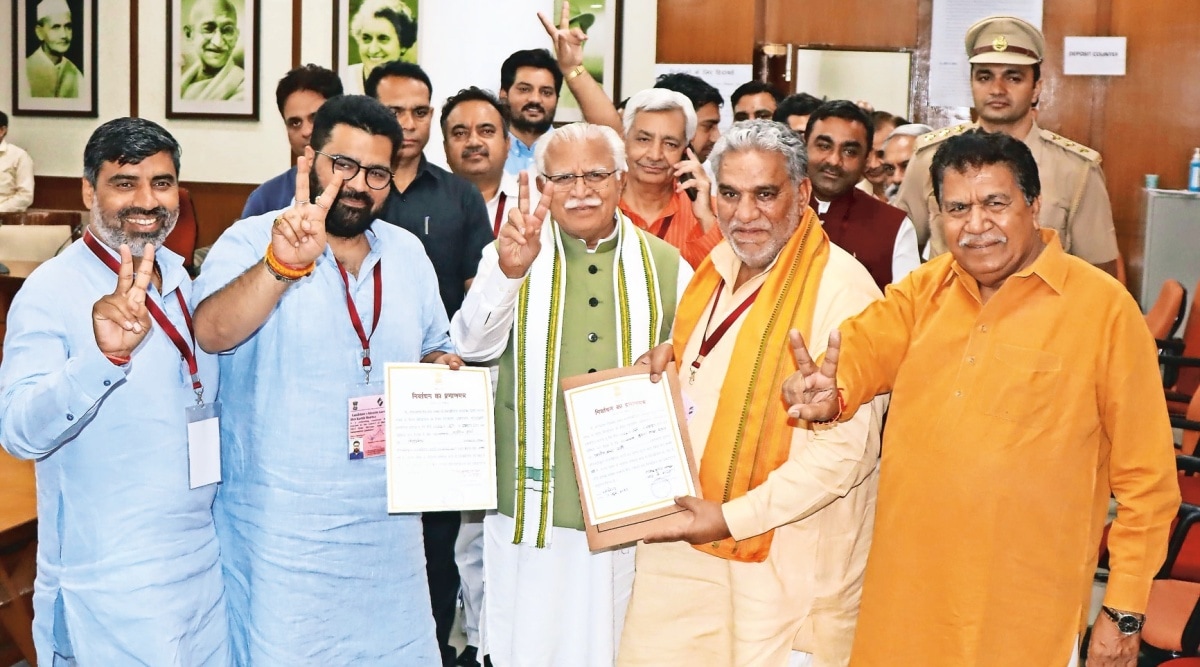 Photo-finish Haryana: BJP pockets both seats
Congress rebel Kuldeep Bishnoi's cross-vote, rejection of a Congress vote and the absence of an independent MP from the ballot led to the defeat of Congress candidate Ajay Maken in the high-stakes three-way contest for two seats of Rajya Sabha of Haryana.
BJP's Krishan Panwar and BJP-JJP backed media baron Kartikeya Sharma visited the Rajya Sabha.
After a dramatic 5 p.m. twist, amid allegations of ballot secrecy breaches, objections were raised to seek the disqualification of two Congressional votes, and then ultimately the intervention of the Chief Elections Commission tainted voting. The result was announced in the early hours of the morning, because the counting of the votes which was to begin yesterday at 5 p.m. could not begin until after midnight.
According to details shared by Chief Minister Manohar Lal Khattar, while a Congress vote was rejected, Kuldeep Bishnoi (Congress MP from Adampur) "voted according to his inner conscience" and "did not vote for Congressional candidate Ajay Maken". "All members of Congress vote by showing it to their election agent. I'm sure Kuldeep Bishnoi must have done that too. However, it is welcome that he supported our candidate and voted according to his inner conscience. He showed his faith in the principles and policies of the BJP. He didn't even think about what his party was going to do with him after that, but he voted after listening to his heart and mind. We welcome him," Khattar said on Bishnoi.
The best of Express Premium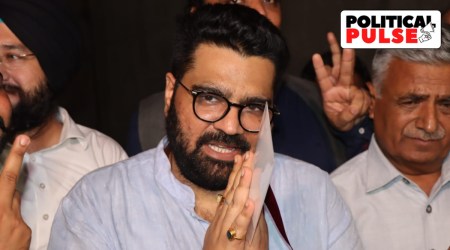 Regarding the vote rejected by Congress, Khattar said: "It's up to Congress to tell us everything. I don't know yet which vote was rejected.
Respond to media queries on the type of training the Congress has provided to its MPs by keeping them at a five-star resort in Raipur from June 2-9; Khattar said: "It shows the kind of training they gave their MPs for over seven days and yet failed. We also trained our MPs for a day and we succeeded. It is our one day against their seven days".
Explaining the math of the count, Khattar said: "Of a total of 90 MPs, one Independent MP abstained, while one Congressional vote was rejected. This left with a total of 88 votes. By rule, any two who could exceed the one-third mark of 88 would have won. Congress got 29, while Kartikeya Sharma got 29.65 votes. He got 23 and Krishan Panwar's 6.65 votes were transferred to Kartikeya Sharma, making him victorious".
After midnight, when the Chief Electoral Commission authorized the counting of votes, around 1:30 a.m., Congress began to celebrate, but when told that their candidate Ajay Maken had lost, they demanded a recount.
"Although Congress did not require a recount in writing, Election Commission officials were nonetheless kind enough to grant their request. Thus, counting 88 votes would not have taken much time. The recount was done and Kartikeya Sharma won while Ajay Maken lost," added Khattar.
Congress feared cross-voting and horse-trading from the start. This is the reason why he asked all his MPs to be together and took them to a private compound in Raipur, Chhattisgarh. Kuldeep Bishnoi, however, did not go.
Ever since the Haryana Pradesh Congress Committee was reorganized and Kuldeep Bishnoi was not considered for the post of chairman, he was sulking. He also sought time to meet Rahul Gandhi which was not given.
Although several senior party leaders attempted to pacify and appease Kuldeep Bishnoi, he stayed away from all Congress events, including the party's highly publicized Chintan Shivir, and announced that he and all his supporters would not attend any Congress event until Rahul Gandhi meets. him. Hours later after the result, Congress candidate Ajay Maken said, "I thank Bhupinder Singh Hooda and Deepender Hooda for preparing and handling the Rajya Sabha polls. If we look at the results, we were ahead of the independent candidate in terms of first preference votes. Their only vote should have been nullified, but unfortunately our only vote was nullified. We are exploring the legal terms. We have time to challenge this result in court."
He added: 'I would like to thank all the MPs who did not succumb to any seduction or fear and supported the Congress party.'
Taking a dig at the BJP-JJP, Maken said, "It was obvious that they wanted to influence the outcome of the election by adopting some method or another to delay it. The machinery of government has been misused. Deputies were pressured by the emergency and income tax services. However, the deputies remained firm ". During the Kuldeep Bishnoi cross-vote, Maken said, "He [Kuldeep Bishnoi] had challenged and won on a congressional ticket. Under what pressure or what seduction he did not present himself to Congress, he knows better. The people of Haryana will never forgive him for this".
Bhupinder Singh Hooda, added: "Whatever action is taken, it will be taken by the high command of the party."
Deepender Hooda added, "This is democracy. We will fight the legal battle. The government's intentions were unclear from the start. They tried to reject our two votes. But, the returning officer's statement and the video footage were two major pieces of evidence. Even the chief electoral commission could not ignore such facts".